Hydrant System
Fire hydrant installation consists of pipework connected directly to the water supply mains to provide water to each and every hydrant outlet and is intended to provide water for the fireman to fight a fire.The water is discharge into the fire engine from which it is then pumped and sprayed over a fire.Where the water supply is not reliable or inadequate,hydrant pumps should be provided to pressurise the fire mains.
Hydrant Outlets
Pillar hydrants should comply with M.S.1395 and located at not more than 30 metres away from the breeching inlet for the building.The hydrant should be not less than 6 metres from the building if it is a high rise building so as to allow fireman to operate the hydrant safely,away from the burning building or falling debris.Generally,hydrants are spaced at not more than 90 metres apart along access roads of minimum 6 metres in width and capable of withstanding a load of 26 tons from fire brigade vehicles.
Hydrant outlets are typically of the twin outlet pillar type with an underground sluice valve.Where these are installed within the owner's boundary,each should be provided with 30 metres of 65mm dia. canvas hose, instantaneous couplings and nozzles, all housed within a steel cabinet beside the hydrant.Hydrants located along public roads need not be provided with hose stations.Underground hydrants are not encouraged due to the difficulty of access.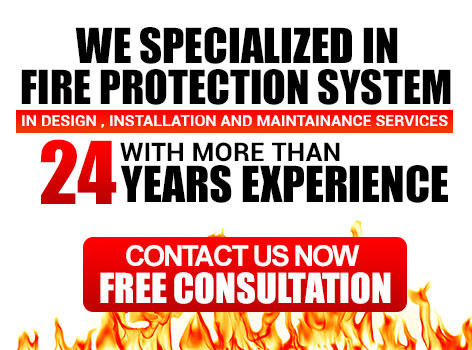 Leave your information now to get
FREE Consultation on your fire safety project.