Automatic Fire Detection And Alarm System
Fire detection and alarm systems are designed to provide warning of the outbreak of fire and allow appropriate fire fighting action to be taken before the situation gets out of control. As all systems are designed primarily to protect life, property, this places a great responsibility on the designer because each building will present a different set of problems in relation to the risk of fire and fire spread.Each fire detection and alarm system therefore must be specially designed to meet the requirements for each building.
The fire alarm system can either be operated automatically or manually. Automatic operation is via the detectors whereas manual operation is by breaking the glass at the manual call point (breakglass unit).
To override the automatic operation of this system in case of its failure during a fire, use the nearest unit of the manual breakglass.
The manual/automatic actuation of the detectors will cause an alarm condition on the master fire alarm panel which will then actuate all the alarm bells installed.
A set of standby battery with capacity for 72 hours supply is provided in the event of any power failure.
Type of Fire Alarm and Detection System
There are few types of fire detection systems:
Digital /Analogue addressable system
Semi-addressable system
Conventional system
HSSD system – High Sensitivity Smoke Detection System
Linear Detection System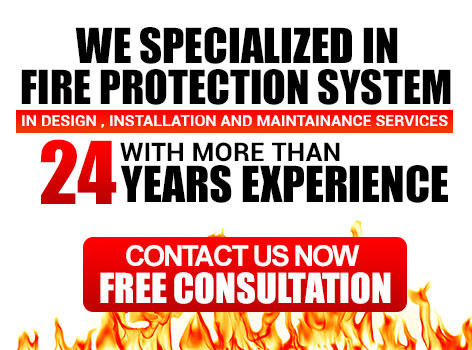 Leave your information now to get
FREE Consultation on your fire safety project.